Open flybridge with hard top protection, having the rear helm station is ideal for fishing and mkes for a safe social arrangement with the seating forward. 43 – 63ft
This new model offers exceptional boating options in an easy-to-handle size – the go-anywhere attributes of our classic blue-water hull.
Read More >>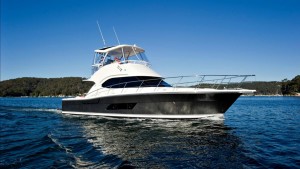 The Riviera 43 Open Flybridge incorporates great function and style within a supremely comfortable, sea-kindly hull. The most striking aspect about Riviera's latest creation is its design approach - a thoroughly modern methodology that will progress flybridge boat design into a new generation of boating enjoyment.
Read More >>
Social for families and functional for game fishing, the Riviera 45 Open Flybridge is made for luxury living on the water without compromise for fun. Made for the pleasure seeker, everything is designed to please the eye and enhance your boating experience, you can have it all on the Riviera 45.
Read More >>